COVID-19 Update: Masks are now required
CHIROPRACTOR Airdrie AB
Welcome to Aspire Chiropractic & Massage located in Airdrie, Alberta. At Aspire Chiropractic & Massage we do our best locate the root cause of the patient's problems and to treat the entire person, not just their symptoms. This article is here to help you gain a basic understanding of how our Airdrie chiropractors can help you and your family.

WELCOME TO Aspire Chiropractic & Massage
Dr Michael has been practicing chiropractic since 2003 when he graduated from CMCC in Toronto. In 2015 Dr. Michael moved to Airdrie and he has been living and practicing here ever since.
We are located on the second floor of the clocktower building in Cooperstown Promenade near the intersection of 8 Street and 40th Avenue in Southwest Airdrie.
What sets our office apart from other chiropractic offices in Airdrie is that while we address a patient's pain, we also look at how nerve interferences (subluxations) are affecting the patient's overall health. Addressing subluxations will make the patient feel better and can reverse the effects of the aging process, prevent future problems and deliver a better quality of life. It's not just a back problem; subluxations are a health problem.
There are many misconceptions about chiropractic. Here are a couple that we need to lay to rest.
You go to get your bones "cracked." Not true! The "pop" or "click" from each adjustment is actually nitrogen gas escaping from the synovial fluid and not a crack, tear or fracture.
It is "risky." Not true! You have as much of a chance of having an injury from a neck adjustment from a chiropractor (1 in 6 million) as you do being struck by lightning.
The patient is too old or too young to see a chiropractor. Not true! There is no age minimum or limit for chiropractic care - it can benefit anyone and our patients range in age from newborns to seniors.
Chiropractic is just for back problems. Not true! Dr. Michael (your chiro in Airdire) can adjust almost any joint in the body.
A CHIROPRACTIC TEAM YOU CAN TRUST
If you have been hesitating to try chiropractic in Airdrie, hopefully, this will dispel some of your concerns. We want to help you be your best self and to be able to do and to enjoy all the things that are most important to you in life. We look forward to meeting you.
HOW TO FIND A CHIROPRACTOR IN Airdrie
This guide will help you find the best chiropractic clinic in Airdrie for you. When most people in Airdrie decide they need a chiropractor, they end up doing a search and just picking someone at the top.
Being at the top of Google for the chiropractic search does not necessarily mean they are the best chiropractor for you. Follow the steps below to make sure you are picking the right chiropractor for you.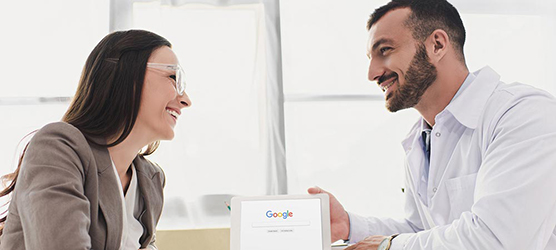 Time Needed: 5 minutes
Total Cost: CAD 0.00
4 EASY STEPS TO FINDING A CHIROPRACTOR IN Airdrie
Step 1: Open up a Google search
You will want to type one of the following in the search bar:
Chiropractor Airdrie
Chiropractor T4B 4J3
Chiropractor near me
Best chiropractor in Airdrie

Step 2: Review Their Website
The best chiropractors in Airdrie put as much care into their website as they do into the rest of their office. By reviewing their website you will get a good feel for the doctor and if they are right for you.

Step 3: Check Out Their Reviews
Check out the Google Business Page of a chiropractic clinic you are thinking about visiting. It is easy for someone to say they are great, it's a different story to get other people to say great things about you.

Step 4: Give The Office A Call
Now that you have a basic understanding of what the office is about. Give them a call to make sure they fit the message that their website and GMB have been sending. You will know in a few minutes whether the office is the right one for you.