Meet Our Team at Aspire Airdrie
Chiropractor Michael Sawa D.C.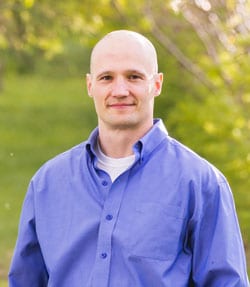 Growing up in Calgary I was involved in a number of sports including hockey, soccer and karate. I always seemed to be plagued by recurring injuries that would never fully heal. I also experienced a lot of low back pain that seemed to come out of nowhere and stop me in my tracks.
On one occasion my low back was so bad that I had to be taken to the emergency room. The doctors checked me over and were at a loss as to what was causing me so much pain. I was actually told that nothing could be done and I had to leave with no answer and no relief. This scenario repeated itself on a few occasions where I visited a medical clinic with no relief and had to leave with deepening frustration. Why did my low back keep "giving out"? Why would the simplest of tasks leave me unable to stand up straight? Why did I feel like I was 100 years old when I got out of bed??
I finally asked my uncle, a chiropractor in Ontario, if there was something chiropractic could do for me and he referred me to a chiropractor in Calgary. It was a life changing experience because not only did chiropractic give me the relief I was looking for, it also provided me with the desire to pursue chiropractic as a career. I wanted to give the same help and relief to people struggling with frustrating and debilitating pain.
After completing two degrees at the University of Calgary, I moved to Toronto to attend Canadian Memorial Chiropractic College. Upon graduating in 2003, I worked for two years in Mississauga and then moved back to Calgary to continue my career. I now live and work in Airdrie with my beautiful wife Erika.
If you have aches and pains and desire to have not only relief but answers to what is causing them and how it can be avoided then chiropractic is your answer. I offer treatment for a number of conditions that are both chronic and acute. I also treat the person as a whole by correcting imbalances in the body as well as the lifestyle that can be the cause of the problem. Chiropractic is not just about getting rid of pain but optimizing your health and life so you can live up to your potential and even better!
I use hands on adjusting as well as activator (instrument) adjusting. I adjust to my patient's comfort level so they can relax and rest assured that they will experience as little discomfort as possible while getting the work done. I want to go the extra mile for patients so they can get better sooner and stay better.
Ready to change your life or continue your chiropractic care? Give our Airdrie chiropractic office a call to schedule an appointment today!
---
MASSAGE THERAPIST HOLLY SUTHERLAND
I grew up not far from Airdrie in Carstairs where I was always active, mainly playing hockey, softball and being outside any chance I get with my dog.
Being active myself I know how the aches and pains feel along with wanting to find a solution for those sore muscles. That's how I got into massage therapy, I attended the Alberta Institute of Massage in Red Deer graduating both years of school with Directors Honours. I am very passionate about the human body and finding different therapies to help aid the public. I have my Sports Massage and level one Myofascial Cupping certification that assists me in getting great results for healing.
Although I know how helpful a therapeutic massage is sometimes a relaxation massage can be just as beneficial! Come visit me and we can find a way to improve your well being.
Holly performs:
Therapeutic
Relaxation
Prenatal / Post Natal
Cupping
Sports Massage
---
MASSAGE THERAPIST KATI PIPPARD
Kati has always had a drive to help those around her and took that passion to a professional level by graduating from Mount Royal University 2200 hours Registered Massage Therapy program. She has a passion for therapeutic massage to aid in the recovery process of both acute and chronic injuries and pathologies.
Kati focuses on getting to know her clients and their lifestyle to help build personalized treatment plans that won't just help short term, but long term as well! She focuses on educating her clients on their condition and recommends homecare exercises to help supplement recovery between treatments. She uses a combination of techniques including myofascial release, trigger point release, deep tissue massage and PNF stretching to achieve the goals set by herself and her clients.
During her practicum, Kati had an opportunity to research and work extensively with TMJD and saw firsthand how life changing massage therapy can be. Whether you're looking to rehabilitate from an injury or relax some muscle tension from every day stress, Kati will work with you to find the best treatment solution for you!
OFFICE HOURS
---
Monday
Closed
---
Tuesday
11:00am - 6:30pm
---
Wednesday
2:30pm - 6:30pm

---
Thursday
11:00am - 6:30pm
---
Friday
9:00am - 2:00pm
---
Saturday
9:00am - 2:00pm
Aspire Chiropractic & Massage
#1106-401 Coopers Boulevard Southwest
Airdrie, AB T4B 4J3
(403) 980-4800